, at
What Does Aaron Gordon Bring to the Denver Nuggets?
The Denver Nuggets appear to have fully recovered from a slow start to the season. But does the addition of Aaron Gordon strengthen their contention for the title?
The Denver Nuggets raised more than a few eyebrows in last season's bubble playoffs. Not only did they come back from a 3-1 series deficit, but they did it TWICE. And it wasn't against any slouches either. The Los Angeles Clippers and Utah Jazz are both title contenders this season and both succumbed to the Nugget's playoff clutchness!
But after reaching massive highs in the bubble last season, the Nuggets started this season with a whimper losing four of their first five games. And 23 games in, Mike Malone's boys were sitting on the play-in fringes at 12-11. Times were tough. But winning fixes everything. And all appears well as Denver has won 17 of 24 games.
The Nuggets are now sitting comfortably in the standings and creeping closer to a top-four seed in the west. Most teams in their position would have been content to sit the trade deadline day out. But not Denver. Instead, they pulled off an aggressive and surprising move by sending Gary Harris, R.J. Hampton, and a future first-round pick to acquire Aaron Gordon from the Orlando Magic.
We all know what Aaron Gordon can do in a dunk contest! At 6'9", nearly 240 pounds, and a vertical leap of 39 inches, Gordon brings an elite level of size and athleticism to the game. Always a popular player, in his seventh season, Aaron has failed to live up to expectations of superstardom. But he has instead found his role as a swiss-army knife player who can fill up a box score and also play defense.
But the question is, what does Aaron Gordon add to the Denver Nuggets?
Nug Lyfe
Overcoming a slow start, the Nuggets have righted the ship. They currently sit at 5th in the West at 29-18 and are in prime position to get homecourt advantage in for at least the first round of the playoffs.
Nikola Jokic has been a revelation playing like an MVP all season long averaging 27 points, 11 rebounds, and 8 assists per game. But the Nugget's recent surge has been due to the improved form of Jamal Murray and Michael Porter Jr. with both players having career highs in shooting accuracy and scoring.

As has been the story in previous seasons, the Nuggets feature one of the most potent offenses in the league. Per Cleaning the Glass which eliminates garbage time statistics, Denver is 4th in the league in points per 100 possessions at 118.5 and 5th in eFG% at 56.7. They are also second in offensive rebound percentage and top 10 in the league in not turning the ball over. Their only real flaw is being dead last in FT rate. But with the Joker leading the way, the Nuggets offense is humming away with the best in the league! And they currently have a healthy differential of +5.3.
But playoff basketball is always a different story than the regular season. The pace slows down and player rotations shrink. And adjustments are able to be made that otherwise wouldn't be. Oftentimes, teams are able to lock down star players depending on matchups.
Ultimately, good team defense matters. We only have to look to last year's Lakers team to find a championship that was built on defense. And during the Warriors' 5-year run, they were top-10 in defense 4 out of 5 years.

Unfortunately, defense isn't in Mike Malone's vocabulary. We're not necessarily talking the Sacramento Kings here, but in the past three seasons, Denver hasn't ranked higher in defensive rating than 10th. Last year they were 16th in Def Rtg and right now they are 19th.
And if we want to absolutely nit-pick the offense, the Nuggets rank near the bottom third of the league when it comes to three-point attempts. In the 2020-21 season they are shooting 36% of their field goal attempts from deep, and only 8.7% of their shots as corner threes. But they are second in the league shooting the corner three hitting them at a clip of nearly 45 percent! And they are 6th in total three-point percentage. Basically, the Nuggets could afford to shoot a few more from behind the arc. Especially in the corner!
So really, what Denver needed from a trade acquisition was someone to not slow down their well-oiled machine on offense. Maybe a player to stand in the corner and hit some threes to keep the defense honest. And then also someone who can lock in on defensive halfcourt sets and break up plays in transition. With these slight improvements, Denver would become even more threatening come playoff time.
So what about Aaron Gordon?
Gord-O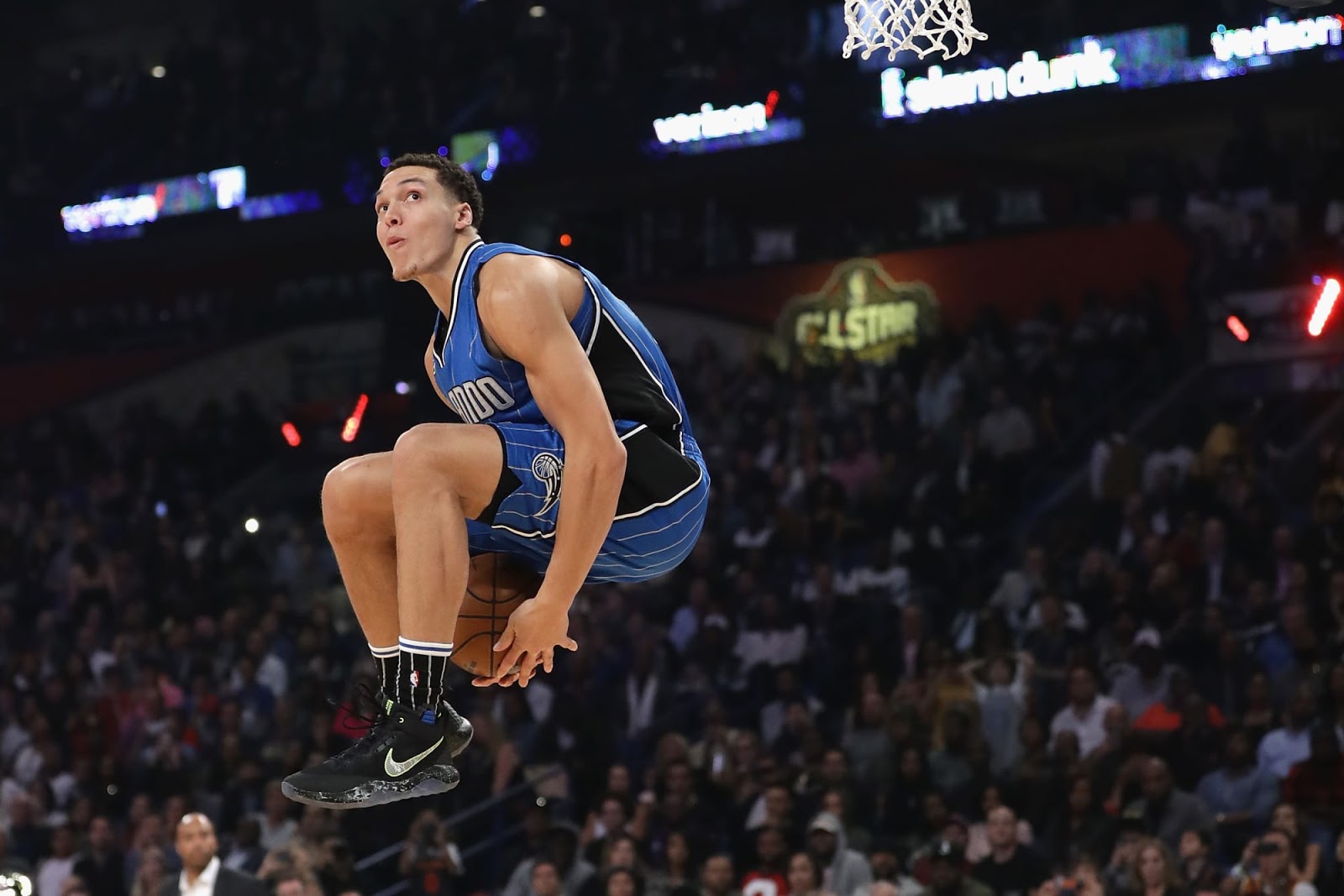 Aaron Gordon became NBA mainstream after what is still a hotly-debated loss to Zach Lavine in the Slam Dunk Contest. Displaying a freakish skillset, the Orlando Magic and their fans were soon having visions of Blake Griffin 2.0. Nearly seven seasons later, it turns out Aaron just isn't that guy. And there is nothing wrong with that.

In his past four seasons with the Magic, Gordon has averaged at least 14 points, 7 rebounds, and 3 assists per game. He is having a career year as a playmaker. In 25 games with Orlando, Gordon was on pace for assists per game at 4.2 with an assist percentage (AST%) of 22.7. While he shouldn't have much of a playmaking role in Denver, he is able to be a secondary ball-handler in bench lineups.
He has a career shooting splits of 46.4/32.3/69.5 with an eFG% of 50.0 all of which are consistently below league average. According to Cleaning the Glass, Gordon is in the bottom half or lower in the league for all shooting percentages for his position. The only real exception is this current season in which Gordon is shooting 38 percent from deep. And with a sample of only 27 games, this will most likely come down.
Speaking of shooting threes, Aaron has seen a gradual decline each year in his corner three attempts all they down to 4% of his shots. This is among the lowest in the league for his position. While we can expect his percentages to come down to earth, it is very likely he will be getting wide-open looks from the corner playing with his new team.
And who doesn't like wide-open looks? If Aaron cuts to the basket, the Joker will find him. That's good news for the Nugs because his rim finishing of 68% last year ranks in the top 20 percent of the NBA. In just two games with Denver, Gordon already has 5 dunks which is more than a quarter of his 19 dunks in 25 games with the Magic. Again, a small sample size of 2, but he has already taken 3 corner threes while only averaging less than half an attempt a game with Orlando in this season.
His shot attempts per game with Denver are almost halved. But simply put, he is getting easy baskets when he does get the ball.
All about that D
It's no secret that Aaron Gordon is an impressive specimen. He possesses the physical tools to shine on the defensive end. You would be forgiven for assuming Aaron is a good defender. But do the stats back that narrative up?
For the past 4 seasons, AG is good for at least 5 defensive rebounds a game and a little under 1 block and 1 steal per game. Or as Bill Simmons likes to call them 1.4 "stocks" per game. In the current season, Gordon contesting 9.8 shots per game. He is 8th in the league in opponent shooting percentage differential (25 games played minimum) where opposing players are shooting 6.1 percent lower from the field when Aaron is guarding them. He is right behind Ivica Zubac and Rudy Gobert!
Gordon's 27 games played this season thus far may paint an unrealistic picture here. In the past two seasons, he has defended 10.2 and 11.2 shots per game holding opponents to 1.5 and 1.7 percent lower shooting respectively. Not elite, but he still makes a defensive impact.

On Basketball-Reference, his Defensive Box Plus/Minus for the past two seasons has been 0.3 and 0.1. FiveThirtyEight lists Aaron as a defensive positive for Box Score RAPTOR, and On/Off RAPTOR. In this current season, he has an Overall Raptor defense rating of +2.5. A slight negative on offense, his defense helps him maintain a RAPTOR Wins above replacement (WAR) rating of 2.0.
His player projection depicts a positive WAR rating for many years to come. His weighted averages over the past three seasons show his jack of all trades ability being slightly below or above average in most areas but as a very below-average shooter. As for the next five years, FiveThirtyEight shows him as a negative defender with a slightly above-average offensive impact for the next couple of years.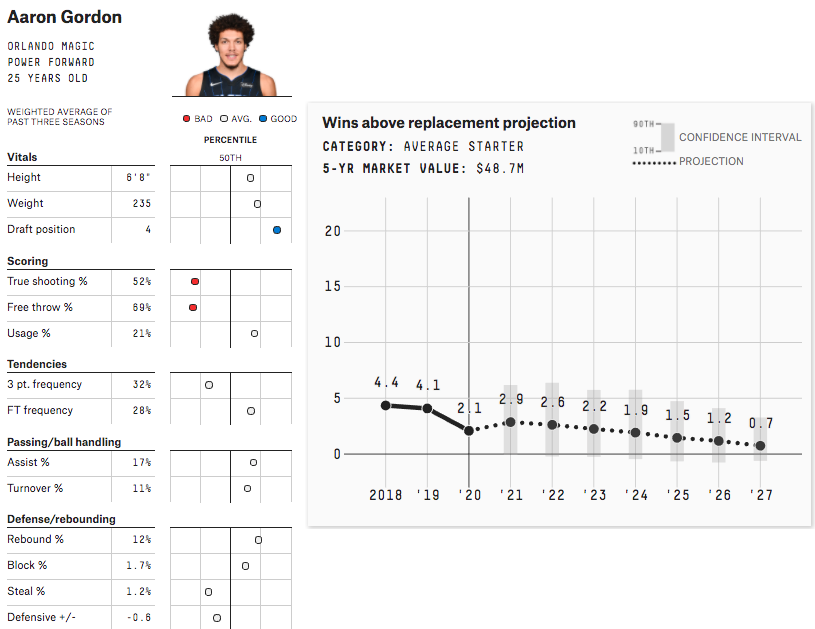 His defensive regularized adjusted plus/minus (RAPM) has been in the top 100 players of the league in 3 of the past 4 seasons. But in last season, his DRAPM was negative!
Nuggets Impact
While acquiring Gordon, the Nuggets were also able to get off the Gary Harris train. While a plus defender, Gary just wasn't available to play in enough games during his Nuggets tenure. Gordon brings defensive versatility on the wing. Using his athleticism and quickness to defend guards. And his size and strength to defend forwards.
If he continues his career year shooting from three, or dips a little, he should be able to hit plenty of catch-and-shoot threes (preferably in the corner). And all of the rest of his shots should come at the rim where the Nuggets can expect him to finish with high efficiency. If that happens, Denver will inch even closer to the best offense in the league.
On defense, AG sure passed the eye test. But the advanced numbers on his defense are a bit fuzzy. But one thing is for sure, he certainly won't make them worse on defense. Should the Nuggets matchup again with Donovan Mitchell and the Jazz in the playoffs, they may miss Harris. But to get to the finals they will likely have to go through Lebron or Kawhi, and Gordon gives them an effective player to slow them down.

According to FiveThirtyEight's season projections, Gordon raises the Nugget's title chances from 11% to 12%. And when it comes to winning an NBA championship, that one percent can make all the difference.