, at
Does Rudy Gobert Have a Big Problem?
Almost no one would have predicted the Utah Jazz to reach the top of the league standings mid-season. But after starting 4-4, Utah went on a nice run winning 20 out of their next 21 games. They are top 5 in the league in team defensive and offensive rating. And they are leading the NBA in net rating at plus 8.8 with a non-garbage time differential of 11.4 points per game.
The Jazz is getting a lot of credit for playing good team basketball. But don't kid yourself. A lot of Utah's success is because of one Rudy Gobert. But despite having the best record in the league, the Jazz entered the All-Star break on the lowest of lows.
They limped into last weekend losing 4 out of 7 games. Donovan Mitchell and Rudy Gobert opened their bank accounts to complaining about reffing and small market biases after a loss to Philly. NBA Twitter and networks like TNT have all but written them off as contenders claiming they lack a true superstar.
Didn't Lebron Play NBA Jam?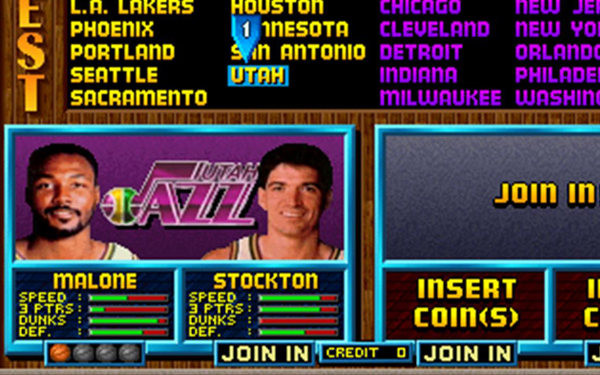 The Utah Jazz Quinn Snyder was selected to coach in the NBA all-star game, but it turned out the 2 Jazz all-stars would be picked last. Not satisfied, Lebron tossed out a vicious stray for Utah stating that nobody ever picked Utah in video games. We find this hard to believe considering Stockton and Malone were arguably the best NBA Jam duo in arcade history! You've got killer dunks, net-burning threes, and all the D! But I digress.
Whether it's the Utah franchise's lack of appeal for Lebron to pick them in 2K or NBA, most view Utah as a "regular season" team only that is lacking a superstar come playoffs. But advanced stats show that Gobert has a similar impact to that of other top players in the league.
Unfortunately, during the Jazz's run to the top of the league, there have been glaring blemishes to their's and Rudy's contention resume. Both Jokic and Simmons had career-highs against Utah this season. And then there is the case of the Jazz last two games where they got beat up by Zion and Embiid in tough losses. That brings the question, Isn't Rudy supposed to shut these guys down?
Just a Help Defender?
On a recent episode of The Mismatch Podcast Chris Vernon told Kevin O' Connor (KOC) that Gobert was merely a "help defender" and "just stops little guys." Adding that he gets roasted by good offensive players.
And in the most recent ladder rankings , NBA.com has moved Ben Simmons ahead of Rudy Gobert as the best defender in the league. He has been near the top if not in first place for the entire season. Until recent weeks, many would have had Rudy as a shoo-in to win his third Defensive Player of the year award. It would appear that the basketball world is wondering the same thing as Verno.
Rudy's Impact
Let's examine his case as the best defensive player in the league. As far as contesting goes, Rudy leads the league defending a massive 18.9 shots per game. This is impressive in itself because of all the times a player drives into the paint, sees Rudy, and nopes the hell out of there! But what else is impressive is that Rudy's shot contention leads opponents to shoot 7 percent below their average. He is also second in the league in rebounds and blocks per game at 13.1 and 2.7 respectively.
With regards to Rudy's impact on the floor, he is currently first in the league in defensive win shares (DWS) and top ten in the league in Defensive Box Plus-Minus (DPM), total Win Shares, and WS/ per 48 minutes. If we look at FiveThirtyEight, we can see Rudy is second in the league in Defensive RAPTOR rating and just outside the top ten in RAPTOR WAR.
Defense aside, his on/off the court plus-minus is +9.4. And his Regularized Adjusted Plus-Minus (RAPM) is third in the league at 3.79. This is an important statistic because it adjusts for who else is on the court and filters out noise from outliers like a random 10th man going 4/4 from three in a few minutes of play.
Basically, Rudy's impact on his team's ability to win is up there with other top 10 players in the league. It's not flashy and he doesn't get big scoring numbers. But when he plays, his team has a good chance to win and usually does. The Utah Jazz being at the top of the league isn't that surprising when you look at these metrics.

When superstars are on the floor, they raise the level of play around them. This is can be seen in Giannis's MVP and Defensive Player of the Year form of last season. According to NBA.com, Giannis led all players in opponent's plus-minus. But what's telling about Giannis' impact last season is that there are a bunch of Milwaukee players near the top of this statistic.

Funny enough this year, with the Jazz, we see a similar effect with Rudy. He is second to his teammate Mike Conley, but many Jazz players are also at the top of the rankings! You might not have even heard of Georges "The Minivan" Niang, but the man can hit from deep. However, you would probably be very surprised to see Georges sitting at third in the NBA in opponent plus-minus!
Obviously, a major confounding variable here is that George plays most of his minutes when Rudy is on the floor. And Mike is seldom on the court without Rudy! According to Stathead, Utah has 3 of the top 15 five-man lineups in the league. And they are all anchored by, you guessed it, Rudy Gobert.
Against the Elite
Okay, so we know Rudy can impact the game at a level at least consistent to a top 10-15 player. But what about the comments that Rudy gets roasted by other bigs? Let's shine a bright light on some marquee matchups from this season. Nikola Jokic
The Denver Nuggets were the only team to beat the Jazz during a stretch of 21 games. And they did it with lights out shooting, going 15/17 from 3 in the first half. But the Joker put on a show of his own while tying his career-high of 47 points. Many were looking forward to the matchup of two elite bigs but found the contest quite underwhelming.
Gobert had 12 points, 8 rebounds, and 1 block to go with an awful defensive rating (DRtg) of 137! Nikola was 17 for 26 from the field and 9 for 10 from the line. And what's worse, Jokic shot 7/10 when Rudy was the primary defender or challenged him at the rim.
Looking back at an earlier contest in which Utah won 109-105, Jokic still had a great offensive game. He finished 14/23 with 35 points. However, he shot a much more human-like 9/17 with Rudy on the court. (He took advantage with Rudy off the court going 5/6). This variance is due to the fact Jokic got almost whatever he wanted in the second game, whereas in the first game he had to force a few tough shots.
Just looking at this season, we can safely say that Gobert has a lot to figure out when it comes to stopping Jokic. The man is having an MVP caliber season and he also dropped 50 a week after scoring 47. It's possible Rudy and the Jazz just ran into Jokic at the wrong time. But it also looks like Jokic is Rudy kryptonite.
Ben Simmons
On February 15th, hours before the Philadelphia 76ers were about to play the Utah Jazz, Joel Embiid was pulled out of the lineup. Instead, it became the Ben Simmons show. From the first whistle, he came out aggressive and went right at Rudy or whoever was defending him. He was banking skyhooks and getting free throws at a high clip on his way to a career-high of 42 points. Ben's inside play was such a big story in the league, you would be forgiven for not realizing that the Jazz actually won the game!
After the game, the Aussie had some choice words for Rudy Gobert stating that he "loved it" when Utah put the big man on him. But also, that he "felt like it was a little bit of a disrespect." Is it actually disrespectful to have one of the best defensive bigs guard a 6'11" player? Well, whatever it is, let's look at the numbers.
Ben was 15/26 on his way to eclipsing his previous career-high of 34 points. But he was actually only 4/9 when Rudy was his primary defender or contending at the rim. That's 8 points on 9 shots. Against a shot-blocker like Rudy, that is good but it doesn't light your ass on fire. And Ben scored 6 of those points during his aggressive start to the game where he had caught the Jazz defensive scheme off guard. However, he did manage to go 6/7 against other defenders when Rudy was on the court. This shows that pick and roll teams can easily get Rudy switched off their big for a more favorable matchup. And this is a major problem for Utah.
Zion
Having an up and down season and playing well below expectation, the Pelicans managed their biggest win of the season, holding off the Utah Jazz's late comeback right before the all-star game. But despite losing 4 of 5, the Pels have been playing much better as of late. And a lot of that was due to the offensive super efficiency of Zion Williams. In the 129-124 victory, Zion shot 10/17 from the field and 6/9 from the line to score 26 points along with 10 rebounds.
But the points don't tell the full story. In the game, the young Zion was going right at Gobert. He might not have the body of a traditional NBA big, but he sure plays like one! On several plays, Gobert seemed to bounce off Williamson like a child and offered little to no resistance. In the game, Zion was 5/8 when guarded by Rudy and 4/6 when going at Rudy's teammates while he was on the floor. Funny enough, 10/17 is good for 58.8 percent but is below Zion's season average of 61.4!
Zion is a force of nature, and I'm not sure anyone can stop him from getting to the rim right now. He is too quick for Rudy to stay in front of and too strong for Rudy to really challenge him at the rim either.
Embiid
Having been accused of ducking elite bigs by a local sportswriter, Joel was well up for the second matchup of the season between the Sixers and the Jazz. He opened the game sinking a tough turnaround fadeaway in the paint over Gobert. That must have been a sign of things to come. At times he seemed unstoppable. He capped off his 40-point performance by hitting a crazy three to send the game to overtime.
Yet again, the narrative was that Rudy got cooked by another elite offensive big. Let's have closer look at the numbers. Joel was 14/27 from the field and 10/13 from the charity stripe which is excellent. But how did he matchup against Rudy? He made 8 of 19 shots when guarded or challenged at the rim by Gobert. That means he was 6 for 8 when another Jazz player was defending him (including the clutch 3 over Bogdanovic). With Rudy contending his shots, Joel was 10 percentage points lower than his season average of 52.1 percent from the field. Going 4 for 5 on free throws from Rudy fouls, Gobert gave up 20 points on 19 shots. That is 1.05 points per shot. It's not elite, but it's not exactly getting roasted either.
Final Verdict
Here at #StrictlyByTheNumbers, we believe in looking at all of the available data before drawing a conclusion. And there can be a lot to dig through even for a single game. But a sample size of one can be very deceiving and one would be ill-advised to make any predictions or hot takes based on it. I mean, this never happens in the world of the NBA media right?
Besides just this season, we have years of data to indicate Rudy Gobert's larger impact on the Utah Jazz winning basketball games. But to find out his own struggles and matchup issues, we need to look with a higher resolution.
By looking at a handful of games against a diverse set of elite bigs, we can see a few trends. First off, the modern NBA is all about the pick n' roll, and even the majority of elite players will opt to get a switch rather than challenge Rudy. And elite bigs seem to be able to abuse pretty much anyone else from Utah.
Players like Zion or Embiid can have effective games against Gobert (albeit in different playstyles) but still score below their normal efficiencies. Embiid is currently the MVP front-runner and Zion is possibly unlike anything we've seen before. The fact the Rudy can slow them down at all shows his defensive value.
And sometimes, a narrative develops after the game finishes. Like in the Simmons game, a more detailed look shows the flaws in Utah's defense once Gobert gets pulled out of position. And sometimes, an offensive player like Jokic simply overmatches anything Rudy can do.
There are still a lot of games to be played. Rudy has yet to match up with Anthony Davis or KD this season. Only time will tell if the elite offensive bigs of the league have truly found out Gobert. We know the Utah Jazz aren't the most beloved team in the NBA. And Rudy is one of the most hated players in the league for a variety of reasons. But for now, the narrative that Rudy always gets toasted is a conclusion drawn by those who refuse to look at things like we do, strictly by the numbers.
What we do know is that Rudy Gobert has a big problem. But perhaps it is a small one.