, at
Why is Luka Doncic different than others?
Luka Doncic is only 21 and has the potential to become best European player who ever played in the NBA
Luka Dončić was born on February 28, 1999, in Ljubljana. His father is a retired Slovenian basketball player Sasa Doncic. The extent to which father Sasha directed his son to basketball is evidenced by the fact that his godfather is Radoslav Nesterovic - a Slovenian national team player and ex NBA player. So, from a young age, Luke had the right background to accomplish something special in basketball.
At the age of seven, Luka started to play basketball, and when he was eight his father took him to BC Olimpia Ljubljana, enrolling Luka into the club's youth teams. After 15 minutes of the first training session, it was clear to the coaches of Olimpia what kind of boy he was and was sent to train with 11-year-olds. In 2012 he was voted MVP for the U13 selection in the tournament in Rome, after scoring 54 points, 11 rebounds, and ten assists in the final against Italian team Lazio!
Performances in the region that Luka was displaying simply could not go unnoticed. Real Madrid scout notices him and he moved to Madrid in the summer of 2012. The first important tournament he played for Real Madrid was at beginning of the 2013 "Minicopa Youth Tournament", where Doncic also won the MVP award.
At the 2015 Next Generation tournament( top European youth tournament ), then 16-year-old Luke was not fascinated by the fact that he was two years younger than the rest of the team. Luka was named MVP of the tournament one more time.
Pro basketball
Shortly before the Next Generation tournament, in April 2015, Luke made his debut at ACB for Real's senior selection, making him the third-youngest to make his debut in league history. Even next season, in 2015/16, the young Slovenian was the youngest player in the league. He quickly got himself into the Real Madrid rotation, and in the 2016/17 season, he was occasionally a starter. That season he scored 23 points and had 11 rebounds against Fuenlabrada, making him the MVP of the week.
Next season, having won the Eurobasket that summer, Luka has brought his brilliance to the next level. An increase in confidence and athleticism has brought him, in the Euroleague, an average of 20.7 points, six rebounds, and four assists per game. At 18, he was the best player of a major European club.
What is Luka doing and how is he doing it on the court?
Offensively, Doncic represents an obvious case of dominance through the fundamentals (pass, dribble, shot), which together with his physical profile (6'7 height), makes him a perfect ballhandler who can create and punish every mismatch with the opponent. Creating that kind of mismatch situation is one of the most important things in modern NBA and players who have the physical and technical knowledge to use this are destined to become great.
And in the case of Doncic, it is almost automatic: his ball-handling and court vision are powerful enough to play against smaller players, and to use size to punish them; while his speed and technical repertoire are enough to play, far from the hoop, against larger but less mobile interior players.
In order to stop him, other teams need a very versatile defender, who will try to contain him in one-on-one situations, something that is not so simple to do. In addition to that permanent search for mismatch - with the pick & roll and offensive spacing, he can be a great weapon in any offense when a team creates isolations for him.
In that sense, the development and use of the 3 points shot in the Doncic game was a big factor that helped stretching the defensive attention as far as possible from the hoop, in order to create space for his penetrations. Therefore, his percentage shouldn't be directly linked with his shooting skills (although he has improved his 3pt% a lot, last season he was shooting 31,6% and this season he is at 36,7% behind the 3-point line), because of his ability to penetrate and create something for the rim when the defender comes closer and doesn't allow him to take a shot. His shooting percentages are raising every year but he is not abusing that aspect of the game, Luka is smart enough to be patient with the ball and create the best solution for his team and not force every possible 3 pointers.
Doncic is one of the best in the league when we are talking about probably the most complex shot that exists, the 3 pointers after the dribble. Being a legit threat in this situation is what makes him so dangerous, even risking lowering his overall shooting percentage, this kind of shots are creating a lot of space for other Dallas player because the defense needs to think will Doncic start to heart them from the 3-point line and they need to come very close to him which opens a lot for others.
The relationship between being an external threat and a great finisher at the rim is very powerful, especially when the high level is reached in both aspects. And it is that making the court wide open for a team that wants to maximize the two most productive analytical areas (lay-ups and 3 pointers).
Dallas' offensive is designed with a desire that everybody can play from outside of 3-point line, and create a lot of gaps, so their bigs(Porzingis and Kleber) are able to shoot and play with face to the basket That is the first part of their offensive success (71% of their field goals come from 3-point line or less than a meter from the hoop)
Doncic is truly making the difference in attacking the basket. Therefore, his penetrations, in which the player has the ball at least six meters from the hoop and dribbles it no less than three times are very effective. The Slovenian among the leaders the NBA in makes from these long drives.
The three points shot + penetration cocktail is complemented by two other key factors, keys to complete that offensive poker that sets the trend in the current game: pick and roll decision making and effectiveness in isolations. Doncic combines volume (second largest number of possessions per match 13.8 behind Tray Young 14.1) with success (fourth-best in iso with 73.9 percentile). His understanding of the timing and ability to read the screens is exceptional. He can feed inside players with his perfect passes, he can find shooters on the weak side or be aggressive towards the rim and find himself the situation to score.
When we talk about the physical handicap of Doncic in the NBA, it is true that he doesn't have the quickest first step, however other essential aspects that do make Doncic a very powerful physical player are overlooked. One is his body control on the dribble taking into account his size, which allows him to be able to change speed and direction constantly without losing effectiveness. And the other, related to the previous and even more decisive, is its ability to decelerate.
In basketball, it can be equally essential to have the ability to stop and quickly change the direction, something very important for the players who have a ball in their hands a lot and receive significant defensive pressure as a result. Players who can change the speed and take defenders out of rhythm are very valuable in today's game. In other words, if his first step makes it difficult for him to punish the opponent... his ability to decelerate makes it difficult for him to not be successful during the next phase. So, he is not beating defenders in beginning like other players, he is creating an advantage after that when defenses usually think they already did a good job.
Advanced Stats
While he is among the top players both in points (4. 28.6) and assists (4. 9.1) his advanced stats are showing even more how impressive he is and how big is his impact on the Mavs performance. Luka is leading the league in the usage% with 35.1
Only that, his usage% VS winshare is giving us a clear picture that Mavs are a different team without him.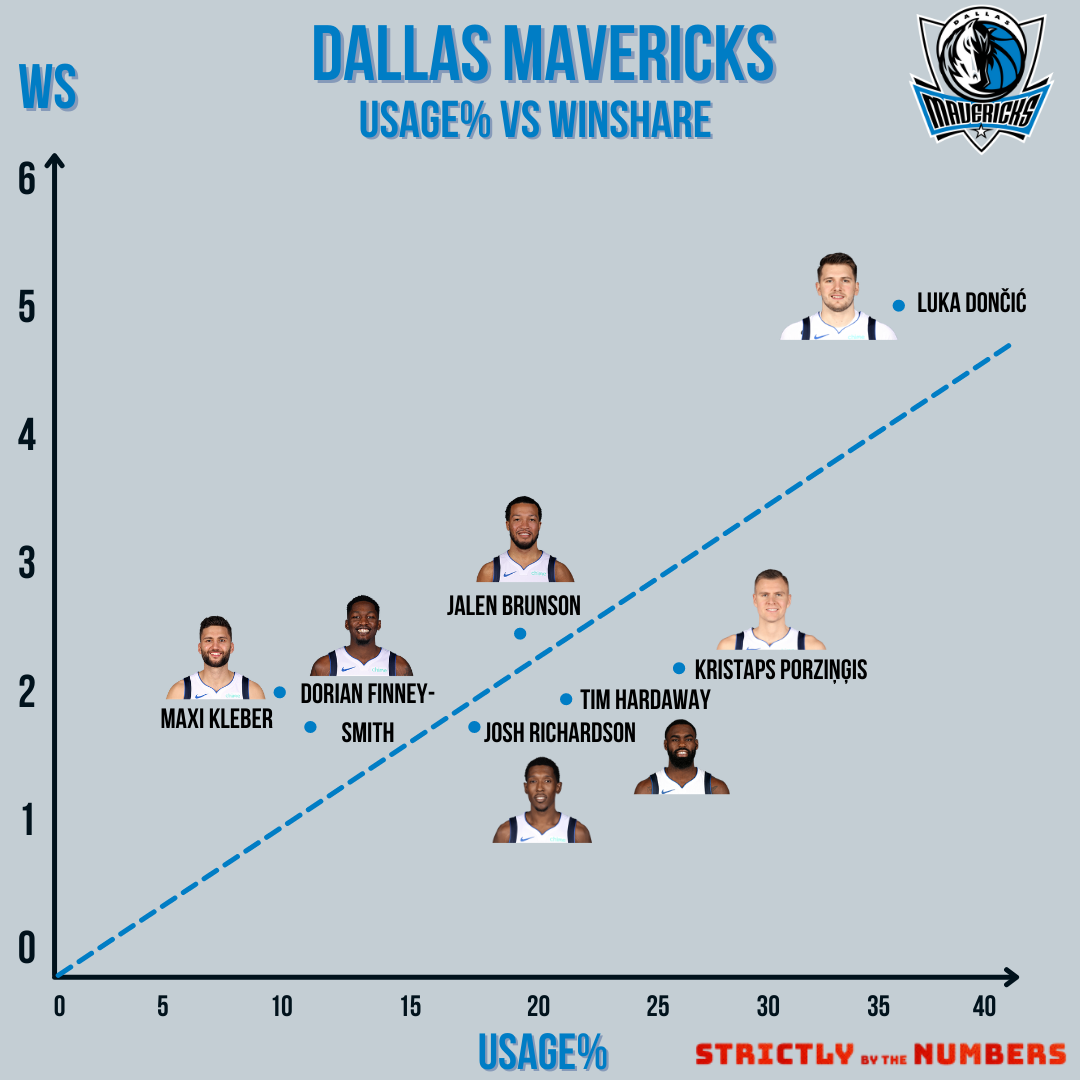 With Luka running the plays Dallas's offensive rating is +3.7 and with him, on the bench, it is -4.9!
That amount and quality of decisions, together with the dominance of the fundamentals are key areas of the modern game. Triple after dribble, penetration, pick & roll, one against one is what makes Doncic a nightmare for any defense. How he uses his body in all of these situations is simply masterful, usually through fakes or technical details that lead him to his main objective: to manipulate the balance of the man in front of him. That's where Doncic is unstoppable. He finds a way to be in better body balance than the rival. And from there, it surpasses it. Because the very high intelligence on the court added to the physicality, which allows him to make correct decisions naturally.
Nobody should forget that Luka is playing his third season in the league and that he is only 21, many of the players competing at March Madness are older than him. The best is yet to come!